Testosterone and Aging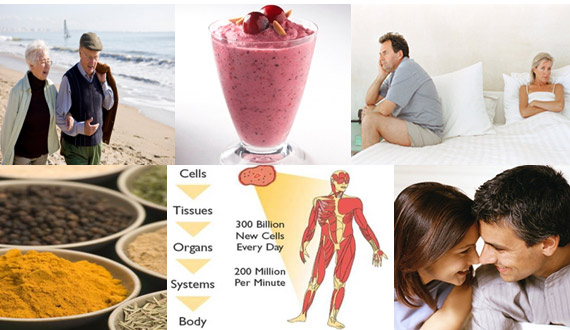 During midlife and beyond, men's leading causes of death include familiar standbys: heart disease, cancer, unintentional injuries, stroke, diabetes, respiratory disease, suicide, and Alzheimer's disease.
Baldness, wrinkles, bad vision,and back hair are the least of your worries
Approximately 30 percent of men in their 40s have asymptomatic prostate cancer, according to research from the Barbara Ann Karmanos Cancer Institute. That is, the cancer is there but nearly undetectable. It's a terrifying prospect, but a reality in your 40s, which might be labeled "the decade of disease."

Once you reach 45, heart disease becomes your number-one threat, killing 36,000 fortysomething men every year.

And scientists at the University of California at Irvine discovered that men over 40 were up to twice as likely to develop melanomas than were women of the same age.

There's also an elevated risk of nonfatal diseases, such as macular degeneration, the leading cause of blindness. And don't forget about obesity: Even if you managed to sidestep it in your 30s, keeping your waistline in check doesn't become easier with age.
Testosterone
Men reach their peak testosterone levels in their teens or 20s, according to the Mayo Clinic. By the time you reach 30, the amount of testosterone in your body will begin to decline, with a roughly 1 percent drop each year. After age 50, your rate of testosterone loss increases, HealthCommunities.com reports, and by the time you reach 80, your testosterone levels might be only 20 percent to 50 percent of those you experienced at your peak.


Bundle of Herbs
1-3 month supply of each herb is .20 oz
4-8 month supply each herb is .35 oz
Each herb is individually sealed and packed separately by the oz
This is a saving of roughly $200-$450 depending on the herbal supplier if you were to buy each herbal powder by the pound.
This is a very affordable way to sample the herbal powders and see if you like them.

Recommendation: When you receive the bundle please personally test each herb individually. Just place a pinch on the tip of your tongue and wait for an allergic reaction if no allergic reaction occurs then you may mix all the herbs together in the foil bag enclosed with your order. Just a teaspoon per day in your daily smoothie is all you need.
Example: SMOOTHIE
• ½ cup pineapple
•1 apple
•3 tablespoons of coconut milk
•1 banana
•1 orange
•2 tablespoons Aloe Vera Juice
•1. cup of Kale
•Honey large teaspoon
•Teaspoon of Herbal Bundle
Example: TEA
• Loose white tea leaves 3 pinches
• Loose Rose Hip tea leaves one pinch
• Some honey
• A pinch of your Herbal Bundle

List of herbs
Maca Root Powder
Catuaba bark powder
Horney Goat Weed Powder
Eleuthero root powder
Saw Palmetto Powder
Gingko Biloba Powder
Ginsing Powder
Ashwagandha Powder
Fo Ti Powder
Tongkat Ali
Yohimbe bark powder
Fenugreek Powder
Rose Mary Powder
Billberry Powder
Psyllium Seed Powder
---
Order NOW
Try a 1-3 month supply



$39



Try a 4-8 month Supply



$129